The Risorgimento and Resistance Museum Collections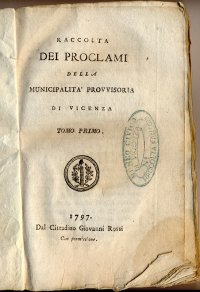 The collections held by the museum are a unique, national wealth. The main nucleus consists of printed publications, periodicals, newspapers, manuscripts, portraits, pictures, prints, books, proclamations, decrees, private deeds, coins, medals, decorations, military and geographical maps, firearms, bayonets, swords, uniforms, flags and various kinds of military object. The most historically important collection is undoubtedly the Gabriele Fantoni Collection, donated to Vicenza in several stages between the end of the nineteenth and the beginning of the twentieth century.
The Fantoni Collection of the National Risorgimento, particularly regarding the Veneto from the end of the eighteenth century to the end of the nineteenth, contains many records – announcements, notices, proclamations – of the political, legal and administrative power of the Venetian Government of 1848-9. The autographs and documents that offer biographical details on many of those who defended Venice during the Austrian siege are noteworthy; as are the collections, many unpublished, of patriotic hymns, poems and songs, mainly written by minor authors, along with satires and humorous publications that cast new light on the general feeling at the time. The complete collections of many Venetian periodicals and newspapers from 1848-9 and the correspondence relating to the Veneto-Lombardy political committee for the years 1860-6 are also of interest. The printed material is completed by more than 4000 pamphlets, many very rare, published in the second half of the nineteenth century.
Description of the main collections
Domenico Cariolato Collection

Letters, manuscripts and mementoes of the National Risorgimento and of Giuseppe Garibaldi.

Antonio Radovich Collection

Letters, manuscripts, maps and mementoes of the National Risorgimento and the thousand red shirts.

Luigi Cavalli Collection

Letters, manuscripts and mementoes of the National Risorgimento

Giovanni Durando Collection

Letters, manuscripts, mementoes, decorations and rare publications of the Wars of Independence and the National Risorgimento.

Giuseppe Bacco Collection

Letters, manuscripts and mementoes of the National Risorgimento and the Garibaldi veterans society.

Antonio Caregaro Negrin Collection

Letters and manuscripts from 1848–49.

Lelio Bonin-Longare Collection

Historic archive of the Bonin-Longare family 1523 – 1944, mementoes and documents.

Franco Family Collection

Manuscripts and mementoes of the Risorgimento, photographs and badges of the Great War.

Manzo Family Collection

Uniforms, mementoes, decorations, photographs and books of the First World War.

Giuseppe Vaccari Collection

Letters, manuscripts, mementoes, uniforms, decorations, photographs and maps of the Libyan War and the First World War.

Guglielmo Pecori Giraldi Collection

Letters, manuscripts, mementoes, uniforms, decorations, photographs and maps of Italian East Africa and of the First World War.

Francesco Meneghello Collection

Letters, documents, mementoes and photographs of the Great War, the Spanish War and the Second World War.

Gianni Pieropan Collection

Documents and publications on the Great War and the history of the Vicenza mountains.

Photographic archive of the Great War

Photographic archive of the Vicenza Resistance

Archive of the Vicenza Action Party Provincial Federation