Madonna and Child, a holy martyr and Saint Peter
| | |
| --- | --- |
| Author | Paolo Caliari, detto Veronese |
| Period | (Verona 1528 - Venezia 1588) |
| Supporto | Tela, 119,4x97,4 |
| Inventory | A 77 |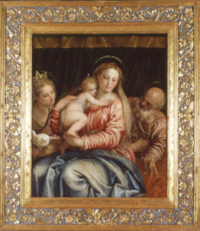 The painting, probably originally intended for private devotion, is one of the masterpieces of the early mature years of Paolo Veronese. The artist painted it in the years
between 1555 and 1560
.
The composition is dominated by the powerful figure of the Virgin, holding the lively Child close in a tender embrace. Beside her appear two saints, observing the Mother and Child with an attentive and thoughtful gaze. Saint Peter, on the right, can be easily identified by the keys, while on the left is a young martyr, wearing a precious crown on her head and holding a dove in her hands, as well as the palm of martyrdom. Various hypotheses have been made as to her identification as Saint Columba, Saint Agnes or, more probably, Saint Catherine.
The slow, gentle, peaceful rhythm of the composition is associated with bright sunny colours, applied with a flowing brush stroke. "The clear rosy flesh colours stand out against the dark green curtain in the background: continuous highlights give luminous vibrations to the lilac pinks, the dull greens and the violets, while touches of brown lacquer lighten the shadows, making them transparent" (Pallucchini).
The skilfully created lighting effects define the volumes of the figures and their fine draperies and lighten the painter's palette, showing how Veronese is, with Tintoretto, one of the greatest exponents of the "revolution of light" that characterised Veneto painting from the mid-sixteenth century onward.
This work belongs to the exhibition route: