Go to navigation menu. Choose another website.
Olympic Theatre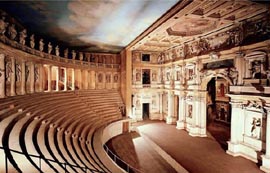 Andrea Palladio's last work and masterpiece, the Olympic Theatre was commissioned in February 1580 by the Accademia Olimpica, a society of mixed social classes founded in Vicenza in 1555 for cultural and scientific purposes and to which Palladio himself belonged. Construction began in May 1580, but Palladio died suddenly on 19 August of that year so did not see its completion. After various, complex delays, the theatre was completed five years later and opened on 3 March 1585 with the memorable staging of Sophocles' Oedipus Tyrannus.
The theatre is reached by way of the odeon and anti-odeon, two large rooms designed by Vincenzo Scamozzi and decorated respectively with frescoes by Francesco Maffei portraying divinities and allegorical figures (c. 1637) and a monochrome frieze of considerable documentary interest (c. 1595). This depicts theatrical productions presented by the Accademia before construction of the Olimpic Theatre (Amor costante, Sophonisba) and shows or events held in the new theatre (Oedipus the King, the diplomatic mission of Japanese envoys).
Palladio designed a monumental scenae frons within an enclosed space intended to simulate classical theatres in the open air. It is flanked by two wings or stage doors and a semi-elliptical cavea with thirteen tiers, ending in a columned exedra at the top, partly open and partly with niches in the wall. Statues of the academicians who commissioned the theatre, dressed in classical costume, occupy the niches and plinths of the structure. A series of splendid bas reliefs showing stories of Hercules by Ruggero Bascapè occupies the highest row. Wooden perspective scenery of the streets of Thebes runs back from the three openings in the scenea frons. This was designed by Scamozzi for the opening performance of Oedipus Tyrannus and has remained as a permanent feature
WINTER HOURS
From September 8, 2015 to July 3, 2016:
Tuesday to Sunday, from 9 to 17

SUMMER HOURS
From July 5, 2016:
Tuesday to Sunday, from 10 to 18
Olimpic Theatre is closed every Monday, December 25th and January 1st.
Extraordinary closure 2016:
27 september from 2pm
28 september from 2pm
29 september all day
2 e 9 october from 4pm
Piazza Matteotti, 3 - 36100 Vicenza (VI)
Booking
Booking is necessary only for groups and school groups and only for the Olympic Theatre and Palazzo Chiericati.
Call Center: +39 0444 964380 - from monday to friday 9am-6pm - saturday 9am – 2pm
Call Center is closed on decembre 25th and january 1st.
Mail: booking@comune.vicenza.it
Buy tickets online: http://www.ticketlandia.com/en/civicivicenza/
Ticket office: IAT center at 12, Matteotti square, next to the entrance of the Olympic Theatre.
To contact the Theatre:
tel: +39 0444-222800
fax: +39 0444-222804