Go to navigation menu. Choose another website.
The churches
Santa Corona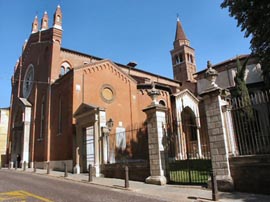 The Dominican church was built in 1261 to house the relic of the Holy Thorn donated by Louis IX, king of France, to the bishop of Vicenza, the Blessed Bartolomeo da Breganze. The Gothic interior, with chancel by Lorenzo da Bologna from the second half of the fifteenth century, houses many important paintings and sculptural works.
These include Giovanni Bellini's masterpiece "The Baptism of Christ", in the Garzadori altar, attributed to Rocco da Vicenza, and the "Adoration of the Magi" by Paolo Veronese. There is also a "Madonna of the Stars", by Lorenzo Veneziano and Marcello Fogolino, a "Magdalen and Saints" by Bartolomeo Montagna and a "Virgin, Child and Saints" by Giambattista Pittoni. The apse is furnished with a fine wooden choir, carved and inlaid by Pier Antonio dell'Abate. The frescoes by Michelino da Besozzo in the Thiene Chapel are among the earliest decorations, dating from the early fifteenth century and offering a mature example of the International Gothic style.
Days and opening hours:
Tuesday to Sunday from 9 to 12 and from 15 to 18.
closed on Mondays - visits are suspended during religious services (saturday at 17:30)
Free entrance

DIGITAL GUIDE

The Church of Santa Corona is equipped with a free digital guide, accessible through smartphones and tablets, in both Italian and English.

Scan the QR code at the entrance with an appropriete app, or download the guide from the Apple store or Play store, or visit the website http://www.chiesadisantacorona.vicenza.it/

The Digital Guide and the new educational signs have been realized thanks to the contribution of the Giuseppe Roi Foundation.
EXTRAORDINARY OPENING / CLOSING TIME

Easter: sunday april 5th - closed
Easter Monday: april 6th - open