Villa Guiccioli and its historic grounds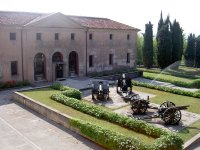 Historic documents on the Villa Guiccioli complex date from 4 March 1788, when the Bombarda countesses of Verona sold the entire property to Antonio Marchiori of Vicenza. He owned "houses and cultivable lands, meadows and woods on Mount Berico" and spent "considerable sums that much improved their state and condition".
In September 1794 a Venetian Master of the Mint, of Greek origin, Marino Ambellicopoli (after whom the hill is named), bought Marchiori's houses and properties. At the time the estate seems to have also included lands on the plain near the hamlet of Campedello.
The villa was built by the Venetian architect Giannantonio Selva, probably in 1799.
Ambellicopoli died in 1803 and his Vassilli heirs retained ownership until 1853, when the complex was bought by Marquis Ignazio Guiccioli after whom the villa is named.
In 1848 the area was the scene of fierce battles between Austrian and Italian troops, the latter led by General Giovanni Durando.
A small church was built in 1855, but nothing of this remains.
The Marquis Guiccioli made some architectural alterations to the villa and probably also major works to its grounds. Guiccioli's successors retained ownership of the complex until 1935, when the Municipality of Vicenza bought the villa "with grounds and annexed lands" in order to set up a Risorgimento and War History Museum. Some restoration works and alterations both to the villa and the grounds were made at that time.
The Villa Guiccioli grounds extend for about four hectares over the top of Ambellicopoli hill (151 metres above sea level). The steepest part, to the north-east, is wooded, while the historic grounds are on the almost flat summit area.
The grounds contain a total of 536 trees and shrubs including local flora and exotic species; there are about 40 different species. The shrubs are mainly Lauro ceraso (Prunus laurocerasus) and yew (Taxus baccata). Evergreen species account for 63% of the total (cypresses 31 %, cedars 13%).
The grounds are further enhanced by the majestic presence of the Zelcova (Zelcova carpinifolia), counted among the monumental trees in the province of Vicenza.
In the eastern part the grounds are a continuation of the surrounding woods; the big holm-oaks, the cypresses and the Zelcova itself merge with the trees and shrubs of the woods. Numerous trails wind through this area amid flowering ash, elm, hop-hornbeam and majestic specimens of durmast.