Go to navigation menu. Choose another website.
The Museum and history teaching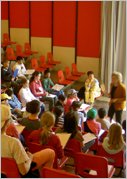 In the perspective of a more modern conception of using and safeguarding the cultural heritage, the Risorgimento and Resistance Museum recognises history teaching as a necessary service in its cultural policy. It is part of an increasingly broad project to safeguard and appreciate our history.
The Museum's teaching project aims at analysing the nature of historic knowledge and identifying teaching and learning processes; the didactic section is a favoured means of bringing together school and museum and foresees a range of useful tools to provide active contact with the vast range of documents on show in the rooms of the Villa Guiccioli.
This section has various workshops and teaching itineraries aimed at building up cultural knowledge, skills and attitudes. The result is a complete, coherent education project based on historical artefacts which entails direct involvement of the students and provides teachers with ready-to-use tools, allowing them independence in running the selected course.
Workshops
The museum hosts much historic data related to war. This material is difficult for children to approach, as at their young age they do not yet have the concept of the temporal and feel naturally attracted to objects like swords and guns without being able to properly place them. The objects on display in the museum are presented by means of creative workshop tasks with the aim of communicating the possibility of resolving conflicts by peaceful methods. The activities, which involve students from middle school and secondary school, are divided in active museum routes managed by the teacher and workshops managed by the operators of Associazione Ardea and La Piccionaia in collaboration with the Museum.
The routes intended for educational use of the museum's rich documentary material stimulate active contact with the wide range of resources. The aim is to contribute to history teaching by placing the students in a position to carry out certain mental tasks typical of the expert, and to gain experience in how the facts of the past are reconstructed and given significance. The intention is to build the intellectual equipment, skills and operational abilities that are the basis of knowledge construction: from knowing to knowing how. Teachers and educators are encouraged to use a direct approach to the documents, with the aid of simple but comprehensive tools (materials/guide of the "Il Museo per mano" series), which make them independent in conducting the type of visit they have chosen.
Info about workshops at payment:
ASSOCIAZIONE ARDEA -  www.associazione-ardea.it
LA PICCIONAIA - Paola Rossi tel.  347 4924292 - paolarossi962@gmail.com