Palazzo Chiericati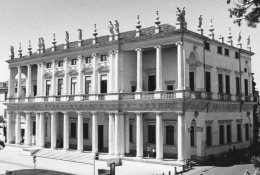 The Civic Art Gallery is in the Palazzo Chiericati, designed by Andrea Palladio in 1550 in his early maturity for Gerolamo Chiericati.
The grandiose building was completed at the end of the seventeenth century, generally in keeping with the original design. The Municipality di Vicenza bought it from the noble Chiericati family in 1839 to house the city's art collection. It was subsequently restored by the architects Berti and Miglioranza and the museum opened on 18 August 1855.
The building now houses the Painting and Sculpture Collections, the Drawings and Prints Rooms and the Numismatics Room. An important nucleus of paintings consists of altarpieces from the church of San Bartolomeo, no longer extant, and works by1 Bartolomeo Montagna, Giovanni Bonconsiglio, Cima da Conegliano, Giovanni Speranza and Marcello Fogolino. There is also a group of civic works consisting of seven large lunettes portraying Glorifications of Venetian Governors, by Jacopo Bassano, Francesco Maffei and Giulio Carpioni.
The Museum was left bequests by the nobility in the nineteenth century, including masterpieces by Tintoretto, Anton Van Dyck, Sebastiano and Marco Ricci, Luca Giordano, Giambattista/Giandomenico Tiepolo and Giovan Battista Piazzetta. The 33 drawings by Palladio, the real gem of the collections, were donated to the museum by Gaetano Pinali in 1839. Donations also include Neri Pozza's bequest of his own sculptures and engravings, and works from his contemporary art collection by other artists, including Carlo Carrà, Filippo De Pisis, Virgilio Guidi, Osvaldo Licini, Ottone Rosai, Gino Severini and Emilio Vedova.