Library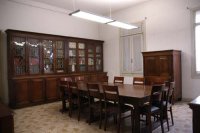 The museum library includes the Rumor Collection, donated by Abbot Sebastiano, and the Numismatics collection, which includes books donated by Ettore Scarpa. The former consists of 4000 books and pamphlets ranging from the sixteenth century to 1930. The collection is of particular interest and value because it contains works by authors from Vicenza or on subjects relating to Vicenza, ordered by subject. It was this collection that allowed the abbot to compile his historic bibliography of Vicenza and its province, published in 1916 and considered a pioneering work in being catalogued by subject.
The Numismatics collection is very old and contains 160 books, making it a valuable reference by type and subject for specialist scholars.
There is then the general collection of current books, relating to works in the museum and including specialist magazines, both contemporary and discontinued. This library is open for public consultation by appointment.